I climbed Kilimanjaro via the Rongai route in October of 2012, capturing runkeeper, and other metrics all along the way. I've also been meaning to write this post since then and it's taken over 10 years to finally overcome procrastination and write up how I logged my data up to and down from the summit.
Planning - what route, when, and what coordinator
I think I first wanted to climb Kilimanjaro when I heard about it in Toto's Africa song. It seemed pretty cool as the tallest single standing mountain in Africa and just mysterious as this giant mountain sticking up out of the wilds. And then as I aged, it seemed part of culture with Hemingway's Snows of Kilimanjaro and just every time I heard about it, it seemed like an amazing thing to do, like visit Shangri-La.
I love hiking, but am pretty weak and not willing to train for real mountain climbing. I learned tht Kilimanjaro is over 19,000 feet but doesn't require any technical training or special equipment so it seemed like something that might be achievable. And one night, while hiking the Inca Trail with my uncle John and friend Calros, we started talking about "wouldn't it be cool to do this with Kilimanjaro." That was in 2006, and in 2012, John and I went on another trip and summited Kilimanjaro. So it's definitely doable for a tourist.
Researching Kilimanjaro, I read quite a bit. I relied mostly on some guidebooks, mostly Kilimanjaro: A Trekker's Guide by Alex Steward (2004, Ciccerone) and Kilimanjaro - The Trekking Guide to Africa's Highest Mountain by Henry Stedman, and I also remember reading Michael Moushabeck's Kilimanjaro: A Photographic Journey to the Roof of Africa that wasn't very useful but had many nice photos. I think I like books over web sites because of the editing and density of information vs filtering through tons of web pages.
Route
Kilimanjaro is really popular so there are many different routes to take:
Rongai - less busy, and has more time at each altitude for acclimatization - ended up selecting this one for 7 days because of acclimatization, this is usually 6 days but we added an extra day to acclimatize with our tour operator
Marangu - most popular, sleeping in huts, steeper climb - ended up not picking this because it had a lower success rate and seemed like it would be more crowded
Macheme - second most popular, I think people call this the "whiskey" route as it's supposed to be hard
Lemosho - considered this because it's also longest at 8 days, but ended up not taking it because the extra day didn't work out with my work's vacation schedule, and it had some driving and drop off rather than all hiking
Umbwe - shortest and quickest route
There's a new route now called "Northern Circuit" that I don't remember that is 9 days so I didn't consider that in our planning.
I think we picked Rongai because it was kind of in a goldilocks zone of not being too long and not too short. My biggest concern was acclimatization because I read that's the biggest reason for failure so this seemed like a good route to gain altitude slowly.
Joseph Mosha, my guide, handed me a copy of this hand drawn map and it was like my bible during the trek. I love it so much and have it framed on my wall.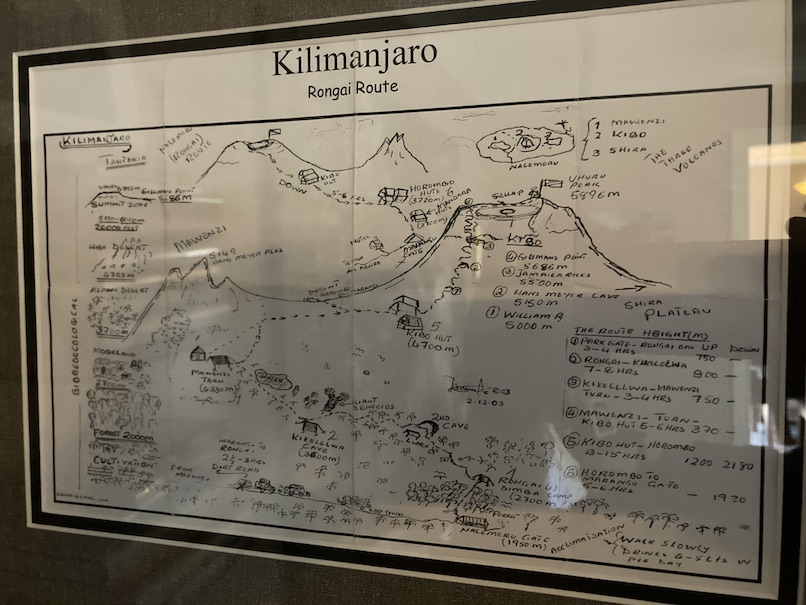 Coordinator
It's possible to climb Kilimanjaro on your own. While I wanted to be cost conscious, I still had a pretty open window and budget of when to go, so I wanted to find a tour operator. The trip is offered by lots of travel groups but I think most resell programs or have remote people scheduling local operators.
I wanted to make sure the operator was locally based to both support Tanzania people as well as to make sure porters and guides were treated ethically and paid. I wanted to use the African Walking Company but didn't find a way to book directly through them so ended up booking through PeakPlanet to get to them. Back in 2012, I paid $2450 for the 7 day rongai. This was the price to add an extra day to their advertised 6-day trip. It looks like the now offer an 9-day rongai for about $3k.
This is for a small group trip where I think there was a max size of 8 people or something and they guaranteed the departure dates. There were cheaper operators if you had more flexible dates or could handle cancellations.
I also made sure this included airport transfers and shoulder lodging and wanted to pay a single price to handle all the "incidentals." So this price included pickup from Arusha (JRO) airport, transport to Moshi and staying in their lodge before and after the trek.
This ended up being really important because there were only three people on our trek and other operators would have delayed or cancelled. PeakPlanet/AWS said that they would definitely depart and return on our selected dates and they stuck to that.
Using local staff was really important to us because I thought that Tanzanians would be more knowledgeable and all guides and porters must be local, so if non-Tanzanians are involved those are extra people beyond the actual people carrying out the trek. And PeakPlanet/AWS was really great in that we only met with and worked with Tanzanians and the two guides we had - Joseph Mosha and Elija Joel - were very experienced (dozens of summits), knowledgeable about climbing and mountain sickness, and very friendly and caring. I think Elija is the single most important reason I was able to complete and without his help, I don't think I would make it.
PeakPlanet did have a lot of guidance on equipment, training, and general information that made preparing for the trip easier.
Here's the route map they shared for Rongai…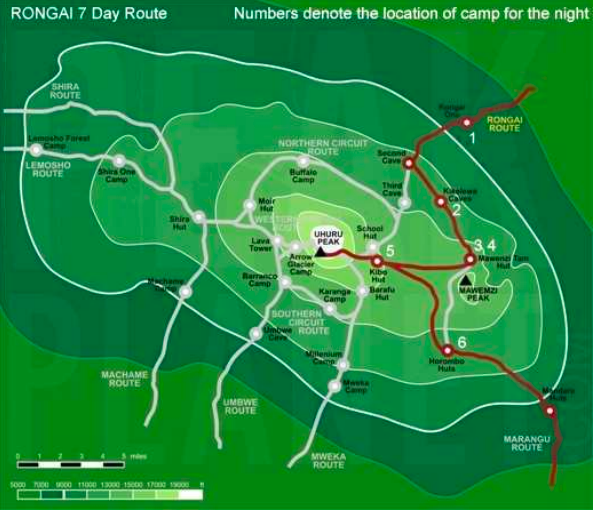 When to go
I wanted to visit Kilimanjaro before the snows were gone and but wanted to find the best weather possible. I ended up picking late September 28th through October 6th to hit the end of the rainy season and also near a full moon on summit. Weather ended up being great and we didn't have any rain at all. And I saw almost no snow as the trail was dry even up to the summit.
Equipment
The Stedman book was super helpful for all equipment purchases. I think I booked my trip and flight in February, so had about six months to shop for deals on equipment.
My basic plan was to have multiple layers, travel light, and have waterproof stuff just in case. Porters carried my bad so I had a 30 pound limit on that and just a day bag that I carried.
I rented my sleeping bag and tent from the operator, but ended up bringing the following gear:
Zamberlan boots - this is probably the most important item and I spent the most time. I considered Saloman, Asolo, Lowa, and every boot sold in Atlanta and online. I went with Zamberlan because of the fit, reputation, and features. I went with the 996 Vioz GTX as they were waterproof with goretex, leather, vibram soles, and a toe box that fit well with me. The waterproof ended up being unnecessary as I never experience snow, but they have been really handy since then going through streams and puddles and never worrying. I still wear them on week-end hikes and they are almost done. I'd guess I have over 1,000 miles over 12 years and have definitely got my money's worth. I think I spent $300. Also, I have the original laces and they've held up really well. I spent about six months breaking them in on local trails and hikes.
Icebreaker merino wool t-shirts x 2 - these were amazing for both warmth as well as durability. I alternated them each day and they were still not funky by the end of the trip. They are itchy the first day but afterwards very comfortable. I still wear them 11 years later.
Icebreaker 260 thermal top and leggings. My top has a hood though that fits snugly with just the face exposed. Icebreaker didn't have as many options back then and I was able to get them at REI on sale. I wore these on the last few days when it got cold and they were really helpful.
Smartwool socks (x3) and underwear (x3). More merino and I alternated these each day. I think my base layer was all merino and it worked out pretty well.
Patagonia Ultralight Down Hoody - this was very light at 900 grams and packed into its own little bag. I wore it at camp at night and on the summit when I pretty much wore everything
1-2 fleece mid layers that I don't remember them. Comically I think they were lululemon or REI.
Arc'teryx Zenta AR Glove - these looked cool and also lasted, but my fingers were so cold on summit, even wearing inner wool liner gloves. I would buy something else instead.
Arc'teryx Alpha LT Hard Shell - I think this was the most expensive item I bought, but I liked it. It was extremely light so I carried it in my day bag even from the beginning. It provided no warmth but completely stopped wind when worn over my layers and had vents under the arms I opened up to help regulate heat. I still have it and wear it frequently so I think it's a decent buy. I think I bought an XL and wish I had bought an XXL because I end up wearing it over everything else. I also bought a soft shell and ended up not wearing it because I just put this over my layers.
Camelbak Tycoon - 3 liter water capacity with 20 liters dry storage. This had insulation for the water bladder and drinking tube. Camelbak doesn't make this any more but it's great and I still use it for all my hikes. Camelbak support has been amazing too, the clip across my chest that holds the straps in place broke and camelbak sent me a new one free.
I brought waterproof outer pants that I don't remember the brand. I never had to use them.
Nomad GoalZero solar kit and battery - this was really useful for charging my iphone every day. I was able to log every day's hike and this solar kit for $100 from REI worked out well enough that I just hung the panels on my backpack each day, and charged my phone at night. I had an old iphone with gps.
Some gps altitude app that shows me altitude based on GPS but didn't need signal. I can't remember the name, but used it and screenshot each day. I can't find the screenshots, but recorded the altitudes into my diary.
Moleskine Squared Reporter Hardcover (that the don't make any more).
Some astronaut pen that wrote in subzero temperatures, upside down, and under pressure.
Medications and Vaccinations
People debate whether to take Diamox or not. I read about the side effects and they were minimal so I went to a travel clinic for my vaccinations and had them give me a prescription for Diamox. I tested it out for a few days to see if I had any negative effects, and didn't. So I took it throughout my trip. It did make me urinate a bit more than usual, but that's not so bad as you want to drink lots of water.
I also took Malarone to protect against Malaria and took that before leaving the US and after returning. Got the same prescription from my travel clinic. I've taken it a few times for other trips since then and haven't had any negative effects.
I had a prescription for xanax and took that some nights to help sleep through the screaming animals (monkeys maybe) and cold. Some people advise against this, but I think it was a life saver as it can be hard to sleep when it's 0 degrees and you have altitude adjustment and are on the side of a mountain.
My travel clinic gave me the following vaccinations:
Typhoid
Hepatitis B
Polio
Meningococcal meningitis
I already had Hepatitis A and Yellow Fever from a previous trip and they were still good. I also had DPT and MMR.
CDC recommends Rabies but I didn't get it as it's expensive, has multiple courses, and it's extremely rare to encounter wildlife on Kilimanjaro. If I had gone on a safari, I would have considered it more.
Daily log
I was really into quantified self back in 2011 and 2012 so I wanted to make sure to keep a log each day. I used a fitbit to track my exercise and food and lost 120+ pounds. And I used RunKeeper to log each hike throughout the day. And kept a paper record in my notebook.
I didn't find any detailed logs of the actual hikes, so I thought I would capture it all here in case people wanted to see specific routes, distances, times, altitude, etc. Of course, it's 11 years later, but then the best time to plant a tree is 20 years ago and the second best is today.
Runkeeper doesn't really have a nice way to share or embed these hikes any more, so I'm just screenshotting each one. I've used runkeeper forever and it's nice they keep the data, but I wish they had better exports.
I flew ATL->JFK->AMS->JRO and arrived on 9/27 and stayed in Kilimanjaro Mountain Resort in Marangu.
September 28, Friday
9/28 - stayed in hotel in Marangu with a trip into Moshi for shopping. Prep day to get over jet lag. $80 for the taxi from hotel to Moshi and back. Paid for everything in the trip in US dollars.
Comically, this is the only day I got a photo of Kilimanjaro looming in the distance. You could see it through the trees from the hotel. I spent the entire trek with Kilimanjaro slowing getting closer and then farther away. I must have looked at it 2,000 times. But never too a picture. Each time looking at it, I was tired and looking at where I was going and never took a photo.
September 29 (Day1), Saturday
5.54 miles, 641 meters gained. Camped at 2,641 meters.
Started at 1035 at the base of Rongai route. Made camp at 3pm. Started at 2,000 meters and set camp at 2,641. After camp, took a 45 minute walk up and back for acclimatization.
4 specific segments for today's hikes.
Day1-Hike1, 2.00 miles, 1 hour, 14 minutes, finished at 12:15pm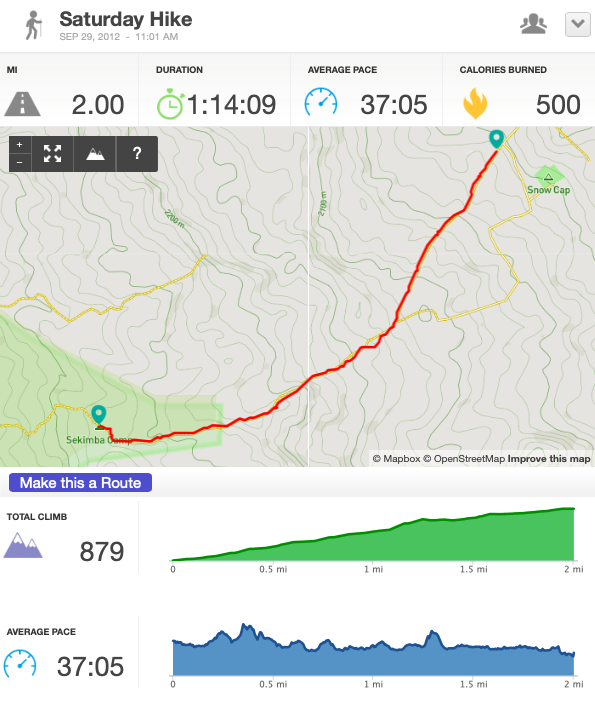 | gpx | kml
Day1-Hike2, 1.26 miles, 44:30, finished at 1:54pm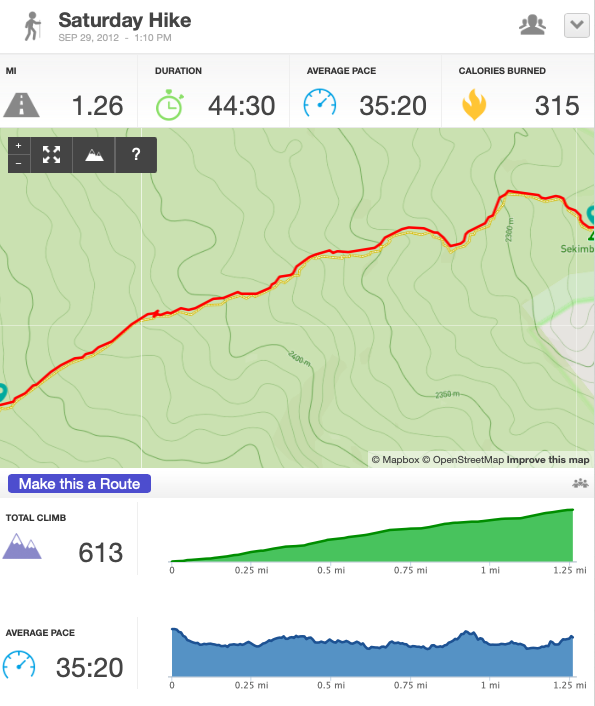 | gpx | kml
Day1-Hike3, 1.06 miles, 43:42, finished at 3:03pm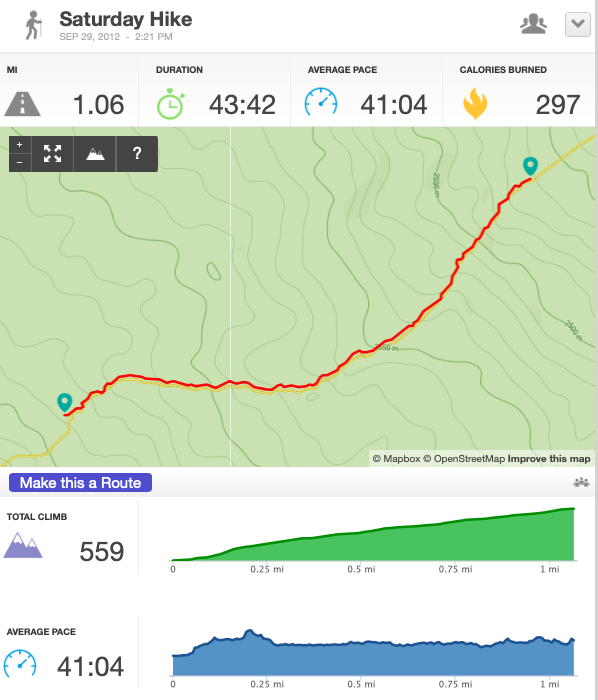 | gpx | kml
Day1-Hike4, 1.22 miles, 46:02, finished at 4:18pm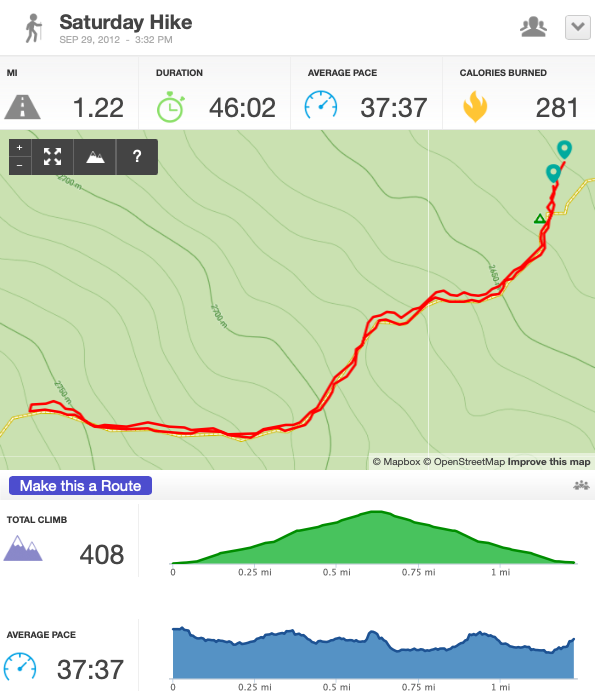 | gpx | kml
September 30 (Day2), Sunday
6.92 miles, 1018 meters gained. Camped at 3,659 meters.
4 segments today as well.
Day2-Hike1, 1.73 miles, 1:05:29, finished 9:42am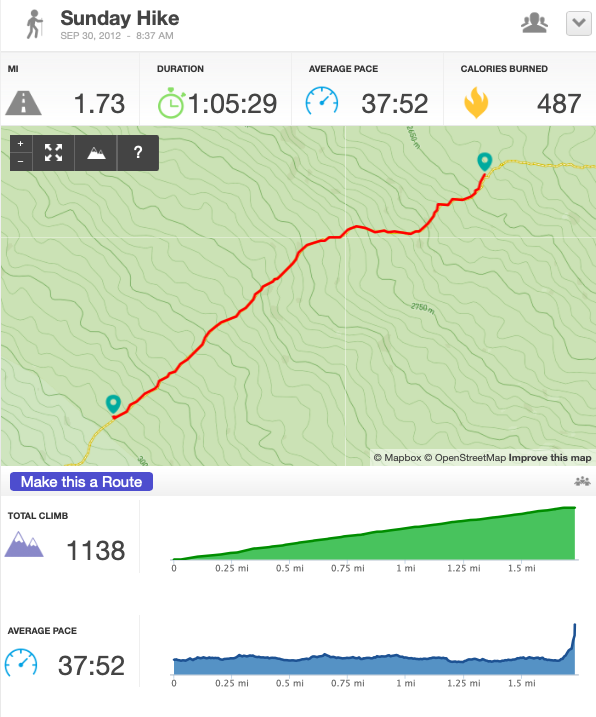 | gpx | kml
Day2-Hike2, 1.38 miles, 1:43:46, finished 11:24am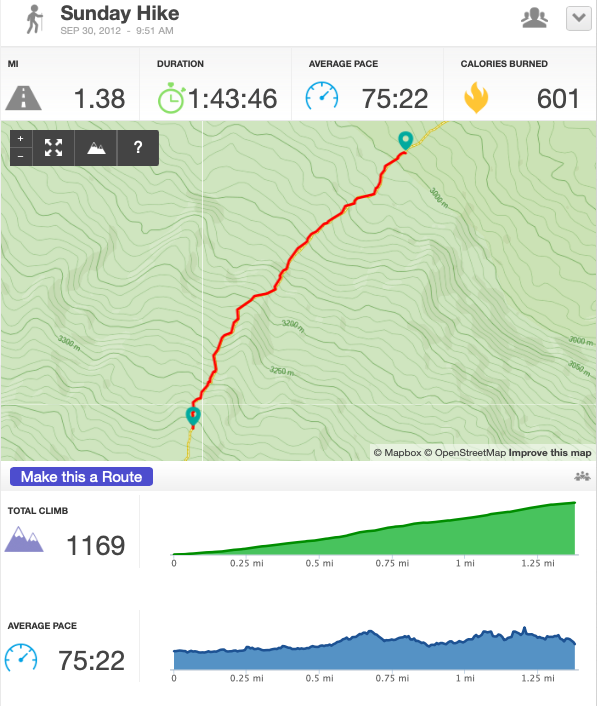 | gpx | kml
Day2-Hike3, 2.25 miles, 1:37:46, finished 2:57pm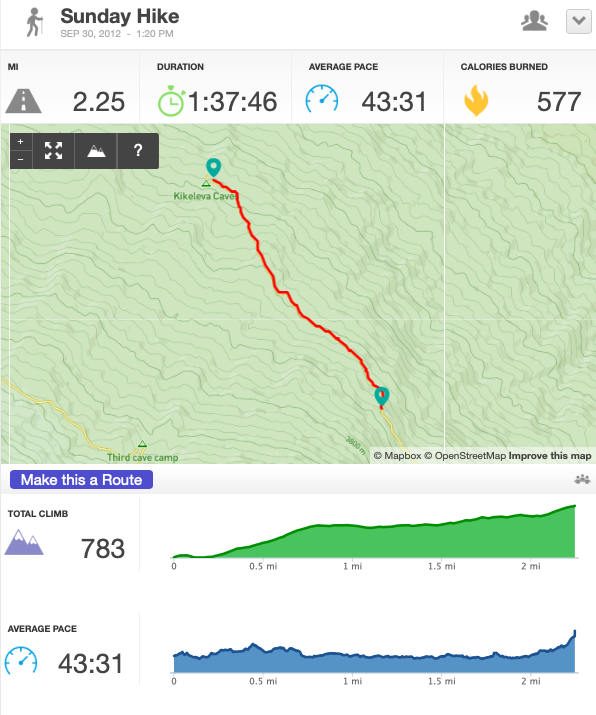 | gpx | kml
Day2-Hike4, 1.56 miles, 1:21:00, finished 4:37pm
| gpx | kml
October 1 (Day3), Monday
2.20 miles, 677 meters gained. Camped at 4,336 meters.
Just a short distance today, but a lot of altitude gained. Camped at Mawenzi Tarn at the base of Mawenzi Peak. This is the first day I really started to notice Acute Mountain Sickness (AMS). I had "thick thinking" where it would just take a long time to think through things, it took me 3 minutes to put batteries in my headlamp and that would normally take 30 seconds.
Day3-Hike1, 2.20 miles, 2:50:17, finished 11:52am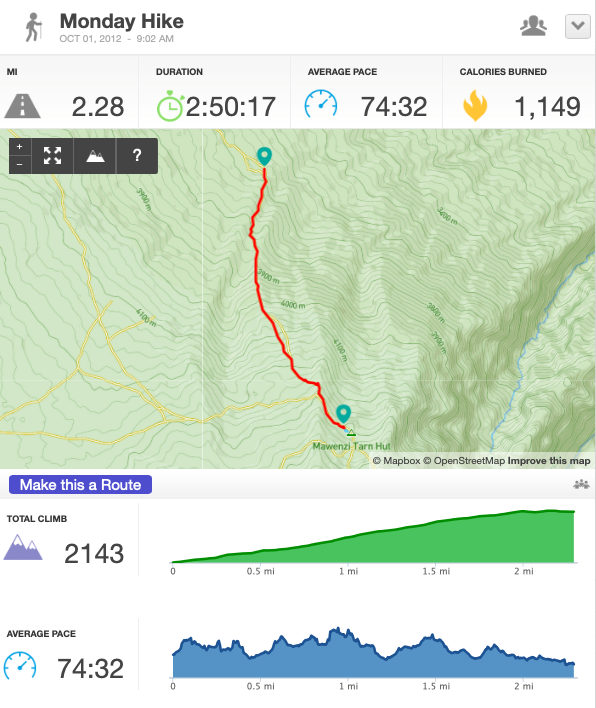 | gpx | kml
October 2 (Day4), Tuesday
1.3 miles, 164 meters gained. Camped at 4,500 meters.
Stayed at Mawenzi Tarn again and spent the day just hanging out and acclimatizing. This is the only day I touched snow as I went hiked around the base to some standing snow.
We were above the clouds and it was really beautiful just relaxing after a few days and using lots of sunblock. Also spent time with clouds rolling over us and it was really neat to be inside the cloud as it passed over.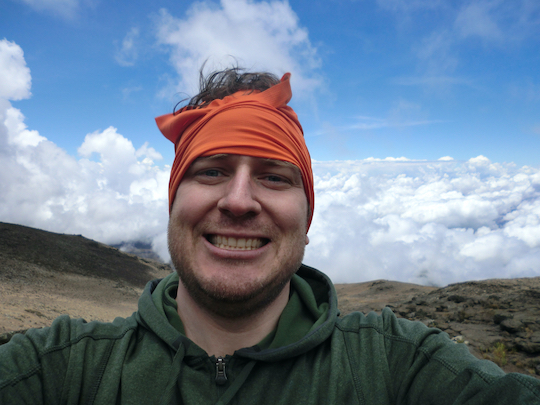 Day4-Hike1, 1.31 miles, 1:39:39, finished 10:45am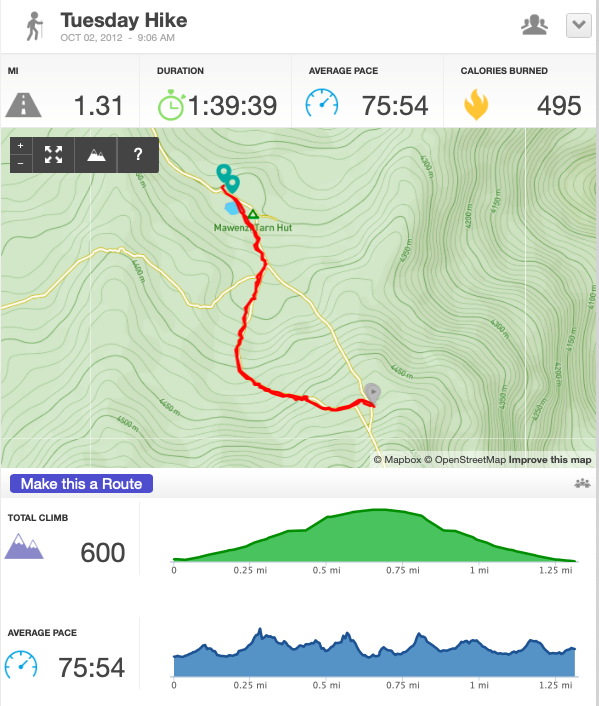 | gpx | kml
October 3 (Day5), Wednesday
5.32 miles, 215 meters gained. Camped at 4,715 meters.
Arrived at Kibo Hut camp "Base camp". So it took about 21 miles to get here. We arrived pretty early at 1pm. We napped until dinner at 5, then sleep until 11, eat a light meal and start the summit. The it should have taken 6 hours to Gillman's point, then 2 hours to Uhuru, then 2-4 hours back down. We didn't actually sleep in the hut, we stayed in our standard tents.
Day5-Hike1, 5.32 miles, 3:30:54, finished 11:16am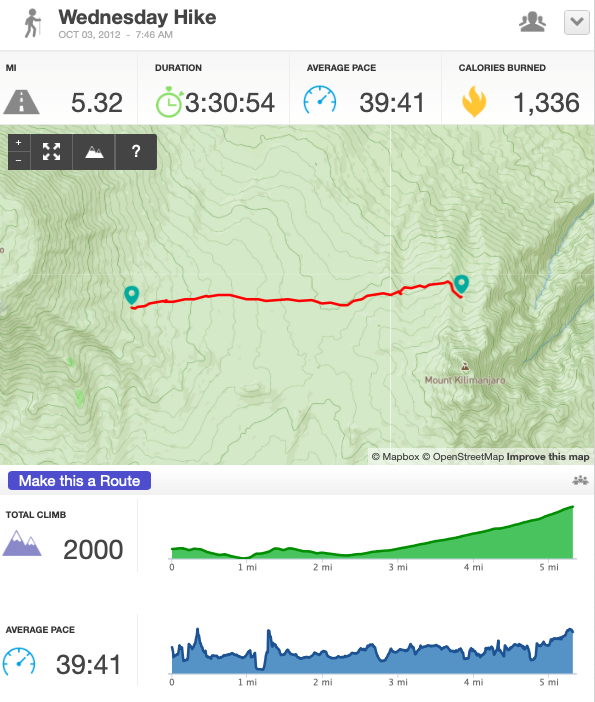 | gpx | kml
October 4 (Day6), Thursday
So technically, I started summit at 11:56pm but include it as day 6.
3 segments today, but only the first with runkeeper.
3.50 miles, 1195 meters gained to summit.
Phone battery died when I pulled it out at summit to end runkeeper and take a picture. Luckily I had it inside my layers and it tracked everything from Kibo hut to Uhuru.
So what's interesting is my diary has the max altitude as 5910 meters even though the actual hight is 5895 meters. So this is wrong, but I kept it in my records as I measured altitudes consistently with the same app so kept this as the altitude for peak assuming that my app would measure wrong, consistently so at least this lets me calculate the altitude gained or lost.
3.50 miles back down from summit and it took 2 hours. Then napped for an hour and got up to walk about six miles to camp at Horombu Hut, 3,720 meters, so 995 meters lost from last camp.
Day6-Hike1, 3.50 miles, 7:16:58, finished 7:12am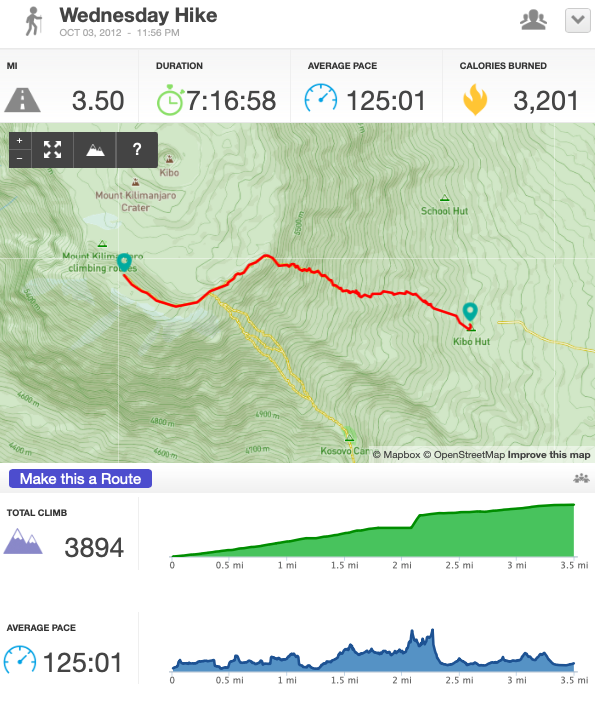 | gpx | kml
Day6-Hike2, 3.50 miles, ~2:00, finished 9:16am
Not sure exactly how long this took, my diary says 2 hours.
Day6-Hike3, ~6 miles, ???, finished ~4:05pm
Not sure how long this took, but my diary entry was at 4:05 so I guess I finished a little before then.
October 5 (Day7), Friday
13.02 miles, 1,830 meters lost. Camped at 1890 in hotel.
2 segments.
Day7-Hike1, 7.74 miles, 3:11:35, finished 11:27am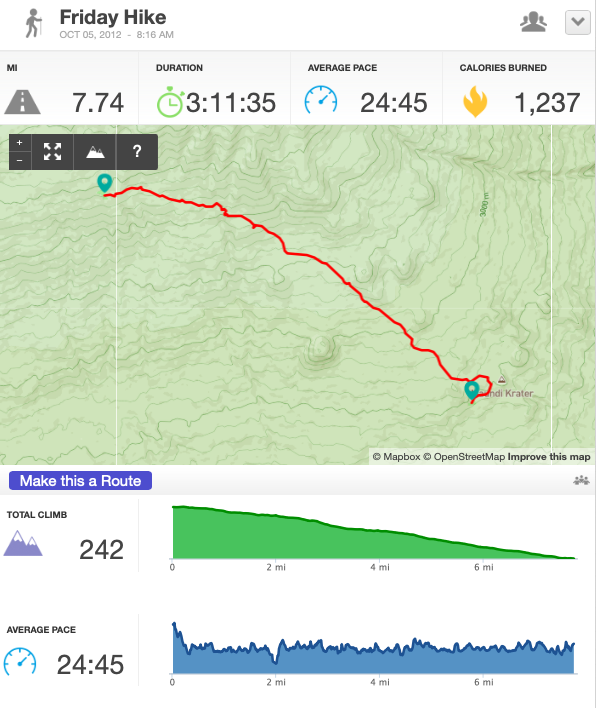 | gpx | kml
Day7-Hike2, 5.28 miles, 2:15:43, finished 2:29pm
| gpx | kml
Summary Table
| Date | Start | End | Time Walking (hours:minutes) | Distance (miles) | Altitude Gain (meters) | End Altitude (meters) | Cumulative Distance (miles) |
| --- | --- | --- | --- | --- | --- | --- | --- |
| 9/29 | 1101 | 1618 | 3:28 | 5.54 | 641 | 2,641 | 5.54 |
| 9/30 | 0837 | 1637 | 5:47 | 6.92 | 1,018 | 3,659 | 12.46 |
| 10/1 | 0902 | 1152 | 2:50 | 2.20 | 677 | 4,336 | 14.66 |
| 10/2 | 0906 | 1018 | 1:39 | 1.31 | 164 | 4,500 | 15.97 |
| 10/3 | 0746 | 1126 | 3:31 | 5.32 | 215 | 4,715 | 21.29 |
| 10/4 summit | 2356 | 0712 | 7:16 | 3.50 | 1,195 | 5910 | 24.79 |
| 10/4 descent | 0721 | 1605 | ??? | 9.50 | -995 | 3720 | 34.29 |
| 10/5 | 0816 | 1429 | 5:27 | 13.02 | -1,830 | 1,890 | 37.31 |
47.31 miles total, 24.79 miles up, 22.52 down; 6.75 average per day.
3910 meters of elevation gain; average of 652 across six days climbing.
Advice
I hope this is helpful. I wanted to know about the specifics of the hikes when I was researching and I wasn't able to see the kind of pace that people kept.
What's interesting to me is that the time actually hiking was rather short each day. Summit day was really long with about 16 hours, but other than that it was usually just a few hours of hiking and the rest of the time hanging around at camp.
I would bring less equipment next time as I think I probably had 3 or 4 backup layers and fleeces. I just wore the same thing. Maybe two copies of each to alternate them. I definitely wouldn't bring a soft shell.
I didn't bring lightweight but warm camp shoes so I had to wear my boots around camp.
Altitude was rough so I would try to train more. I live on the east coast and climbed our highest mountains, but that's only like 5,000 feet. To do it again, I think I'd spend more time in Arusha/Marangu as it's about 2,000 meters high. And I'd take more time than 7 days. The longer rongai sounds nice or maybe that new northern circuit trek.
I'm glad that I didn't skimp on my operator and it was worth everything. The food was nice and the campsite was always great and clean and ready to go when we got there.
I'd bring more cash to tip. I think I tipped $300 total and that was all the cash I brought. But since our group was smaller than usual with only 3 people, I would have liked to tip more to make up for it.
Procrastination
So I've had all this data and all these notes since the trip. I've been thinking it over in my head for all these years. I never sat down to write and collect until today. Why did I do that? I'm interested in the trek. I like seeing all the numbers line up. But what's been pushing this off? I'm not sure. It was hard as I think it took about 8 hours to write everything up and figure out what I wrote in my notes.
I find it interesting when I know what to do and why, but just don't do it. I hope to figure out why I do that.
Things I read / References